Course details
【Delivery at late break】 The lunch party is 3780 yen! 5 persons - free of charge when using private room is from 13: 30 ~ 16: 00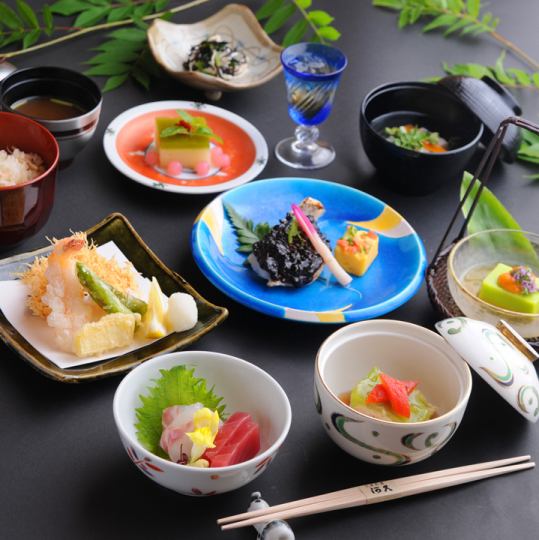 By using a coupon3780 yen
Cooking content is reserved on a monthly basis / reservation required before the day / reservation included tax
Reservation deadline

Until 17 o'clock the day before the desired store visit
Available days for reservation

Monday - Sunday - Public holidays - Holidays
【Delivery at late rate】 From 13:30 to late start of start! Service charge free when using private room from 5 people is a popular course for alumni associations and others.
Course menu
【aperitif】
· Ringo
【Appetizer】
· Wetland yoro hen yarn
· Nanki Ishigaki Makoto
· Autumn sweetfish co-grilled
· Tuki Yuba Hat Seiyaki
· Simmered with golden honey
【Souvenirs】
· Shirako Shinsho
Shell split foliage foliage carrot yuba tree bud
【Building】
· Sea bream · sweet shrimp
Chrysanthemum red with red oyster
【Simmered dish】
· Shrimp sweet rags with miso sauce
Autumn leaves 麩 tribean needle yuzu
【pottery】
Grilled cod with autumn leaves
Walnut Sword Deep-fried Chrysanthemum Flower
【Oils】
· Fried scallion scallion
Mushroom fish mushroom eggplant soup stock
【Armor bowl】
· It's red and Nanjing Mitsububa
【Food】
· Honeymoon cooked rice
【Incense】
· Two kinds of flour
【dessert】
· Fruits Bavarian
Yellow cream seaweed beads mint
Some contents may differ due to purchase convenience ※.
2018/11/01 update