Course details
【Kannon · Complaint】 Celebration meeting pine 13 products 10800 yen (tax included 11880 yen)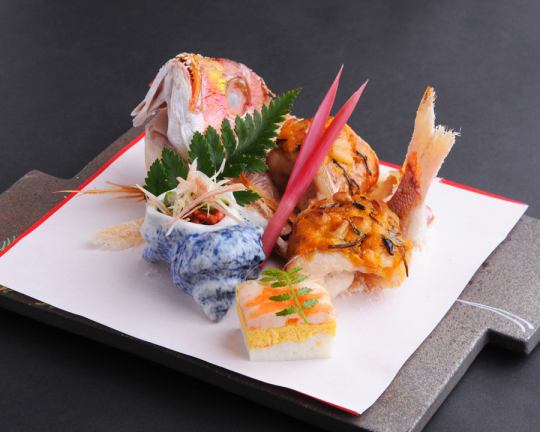 11880 yen
The food content is monthly change.Zeisakomi
Reservation deadline

Visit of hope the day before until 17:00
Available days for reservation

Monday - Sunday - Public holidays - Holidays
Please taste the colorful gem in a sensation that can be enjoyed a bit.Cooking contents are arranged for celebration, a monthly cuisine cuisine to serve carefully one item at a time.Elegant seasoning is also popular among people of a wide range of age.We are preparing a complete single room digging for you to enjoy the superb view you desire from the 142 m above ground, ideal for gift and face-to-face meetings.Private room usage is from 5 people.
Course menu
We arrange with ceremonial vessels and decorations.
【aperitif】
· Kaobu sake
[With earlier]
· Mushroom tofu
Wetland Enomushoshu
Nomako bacon ginger broccoli sauce
【Celebration】
· Zero Remanent Mary Early Sweetened Cake
· Autumn sweet cooked grilled flesh tea
· Shrimp and eggplant's sesame spicy mustard hands
· Cheese crispy fried
· Eel molded beef
【Souvenirs】
· Broiled chicken broiled chili
Primordial tree ginseng vegetable Shiraki Earbuds bud
【Building】
· Sweet and sour pork rolls
Hot Shiso Blue Shiso Seaweed Mountain Ao
【Multiple Things】
· Confucius Ocean Breeze
Kobyu lotus trivial bean paste
【Home comedy】
· Small Snapper Hagaki Grill
Autumn Salmon Nozawa Noriya Gourd-shaped egg
Rice honey vinegar lotus root
【Oils】
· Deep-fried sword fish
Lotus Root fried tofu Soup noodle
Blue Tang Big Slime Soup Dispenser
[Things of longevity]
· Akagi Chrysanthemum
Bowl cucumber Yamato Tosa vinegar
【Armor bowl】
· Red Todoke Yuba Young Mitsububa
【Food】
·Red rice
[Pickles]
· Two kinds of flour
【dessert】
· Pear Musume
Pear Koshu boiled yolk cream mint
Some contents may differ due to purchase convenience ※.
2018/09/03 update