DETAIL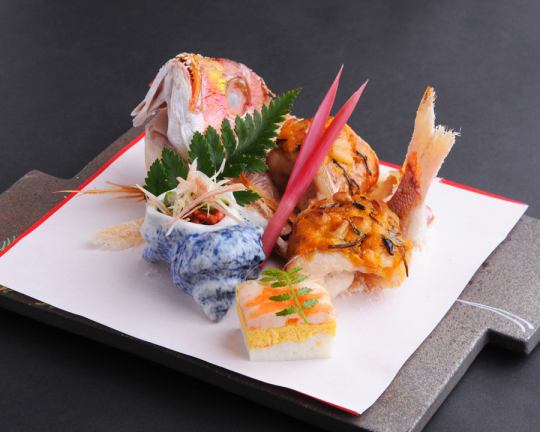 【Kannon · Complaint】 Celebration meeting pine 13 products 10800 yen (tax included 11880 yen)
11880 yen
The food content is monthly change.Zeisakomi
Please taste the colorful gem in a sensation that can be enjoyed a bit.Cooking contents are arranged for celebration, a monthly cuisine cuisine to serve carefully one item at a time.Elegant seasoning is also popular among people of a wide range of age.We are preparing a complete single room digging for you to enjoy the superb view you desire from the 142 m above ground, ideal for gift and face-to-face meetings.Private room usage is from 5 people.
Menu
We arrange with ceremonial vessels and decorations.
【aperitif】
Odor and orange wine
[With earlier]
· 鮟 liver tofu
Caviar Radish 霰 胡 瓜
SELFIEU delicious soup jelly
【Eight Dimensions】
· 蛤 Matcha fried 鱚 Oyster dried
· Sesame sesame season baked chestnut Matsukaze
· Grilled marshland with masa
· Shrimp potato starch
· Mentaiko cheese brought
【Souvenirs】
· Fried Chrysanthemum Fried Chicken
Ningxing autumn leaves Ginseng bud
【Building】
· Hirame Yokemaru sweet shrimp
Hot Shiso Blue Shiso Suizenji Mountain Ao
【Simmered food】
· Sea bream, boiled with wheat
Sesame grass needle Yuzu
【pottery】
· Grilled omelet with white egg
Crab, apples, rice cake, ear rice
Ikura vinegar lotus root
【Oils】
· Fried shrimp with two fried fish and scallop fry
Blue Tang large millet millet eggplant soup stock
[Vinegar]
· Sesame fish bamboo shoots
Fruit of the chrysanthemum
【Armor bowl】
· Red itashi Yuba Nanuko Mitsubara
【Food】
·Red rice
[Pickles]
Two kinds of flour
【dessert】
· Mu Mu cream
Kiwi mint
Some contents may differ due to purchase convenience ※.