Course details
【Kannon · Complaint】 Celebration meeting pine 13 products 10800 yen (tax included 11880 yen)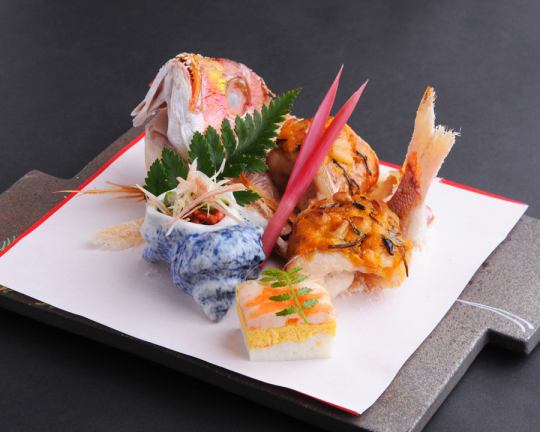 11880 yen
The food content is monthly change.Zeisakomi
Reservation deadline

Visit of hope the day before until 17:00
Available days for reservation

Monday - Sunday - Public holidays - Holidays
Please taste the colorful gem in a sensation that can be enjoyed a bit.Cooking contents are arranged for celebration, a monthly cuisine cuisine to serve carefully one item at a time.Elegant seasoning is also popular among people of a wide range of age.We are preparing a complete single room digging for you to enjoy the superb view you desire from the 142 m above ground, ideal for gift and face-to-face meetings.Private room usage is from 5 people.
Course menu
We arrange with ceremonial vessels and decorations.
【aperitif】
·plum wine
[With earlier]
· Goose liver tofu
Fruit of Muscat
Needle Mount Aoi delicious soup stock
【Eight Dimensions】
· Erika Taste mixed with fried egg sesame dipping
· Mutsun no Ashigata bean curd cheese tofu
· Duck loin orange steamed
· Crispy grilled fish
· Grilled eggplant salmon roll
【Souvenirs】
· Edamame bean curd
Horsetail Abalone Jungjin Hill Hikigi Tree Bud
【Building】
· Sweet potato fish fish
Windblowing blue shiso blue sea nori Aoshi
【Simmered food】
· Confucius bun
Peppers ginger 鼈 甲 豆
【Home comedy】
· Small Snapper Genpei Yaki
Inabo Yuni Yaki Wakasa Yaki
Lotus rootknotised vinegar lotus root
【Oils】
· Fried cosmetic fried
Young cone avocado
Sweet red peppers
[Things of longevity]
Kazuo Suzuko
Cucumbers Monogatari Suizenji Dawn vinegar
【Armor bowl】
· Red Yaki Yaki Yuba Barge
【Food】
·Red rice
[Pickles]
Two kinds of flour
【dessert】
· Mango Pudding
Mango cherry mint
Some contents may differ due to purchase convenience ※.
2018/07/04 update