DETAIL
【Kannon · Complaint】 Celebration meeting pine 13 products 10800 yen (tax included 11880 yen)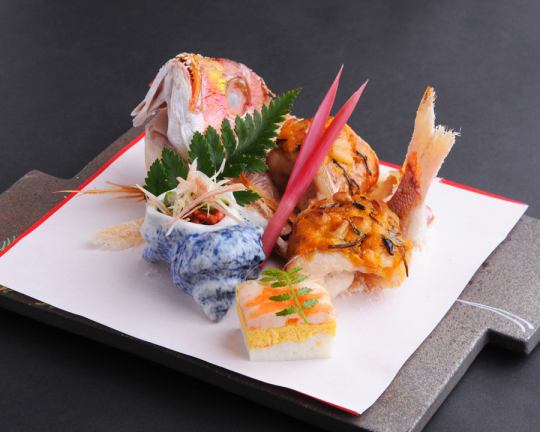 11880 yen
The food content is monthly change.Zeisakomi
Reservation deadline

Visit of hope the day before until 17:00
Please taste the colorful gem in a sensation that can be enjoyed a bit.Cooking contents are arranged for celebration, a monthly cuisine cuisine to serve carefully one item at a time.Elegant seasoning is also popular among people of a wide range of age.We are preparing a complete single room digging for you to enjoy the superb view you desire from the 142 m above ground, ideal for gift and face-to-face meetings.Private room usage is from 5 people.
Course menu
We arrange with ceremonial vessels and decorations.
【aperitif】
· Kaobu sake
[With earlier]
· Scallop and bamboo shoots
Sea shochu sauce hang
Aoi Hayama Needle seaweed
【Eight Dimensions】
· Pickled salted mackerel with miso sauce
· Asao Tofu Tadakura Beef tender flavor fried
· Mountain Sea Moon and Sasami Sesame Pon
· Rice beans checker cheese salmon roll
· Hanami dumpling
【Souvenirs】
· Confucius dictionary
Lotus cherry tree carrot wakame tree bud
【Building】
· Sweet (or flat) bonito
Hotoshi Su Blue Shiso Blue Nori Ayama
【Simmered food】
Steamed bamboo shoots
Tea Hail
【pottery】
· Kozumi cherry tree prawn shrimp
Red hot pepper vinegar miso omelet rice ear
Peach cheese vinegar lotus root
【Oils】
· Fried prawn bamboo shoots
鰆 Tombstone fried tomorrow leaves
Uruui Yuntan fried soup stock
[Vinegar]
· Grilled chicken and spring vegetables
蕨 Kogami Literary Activity
Chow mein sauce
【Armor bowl】
· Red itashi sera
【Food】
·Red rice
[Pickles]
Two kinds of flour
【dessert】
· Coconut flavor Mu
Strawberry Mango Sauce Mint
Some contents may differ due to purchase convenience ※.
2018/04/02 update