Course details
Premium limited ☆ 【Pine Traffic】 13 items 12000 yen with one drink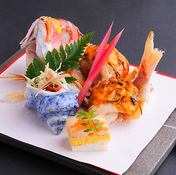 By using a coupon12000 yen
The food content is monthly change.Zeisakomi
Reservation deadline

Coming to the store until the day 15 of the desired date
Available days for reservation

Monday - Sunday - Public holidays - Holidays
Please taste the colorful gem in a sensation that can be enjoyed a bit.Cooking content can be enjoyed on a monthly basis.It is a full-fledged kaiseki cuisine popular for entertaining and anniversaries.Elegant seasoning is also popular among people of a wide range of age.Come with luxurious feeling together with the superb view you want from 142 m above the ground! Complete private room available for 5 people.
Course menu
【aperitif】
· Kaobu sake
[With earlier]
· Crab of rice crab and raw vegetables Miso vinegar oil hanging
Lettuce celery cucumber
Autumn-activated red paprika CELFIELL
【Eight Dimensions】
· Salmon Ribbon cheese cheese true length
· Deep fried chicken with mackerel
· Citrus unshiu
· Mushrooms wrapped in peppers
· 鮟 liver horn boiled Sasami red leaves deep-fried
【Souvenirs】
· Ginkgo shrimp
Sesame fish bamboo grouper ginseng
【Building】
· Mr. Yoko Raka prawn shrimp
Hot Shiso Blue Shiso Suizenji Mountain Ao
【Simmered food】
· Simmered bean curd cooked with eel
Kabuki rosewood tree buds
【pottery】
· Scallops of Tamba grill
Duck loin sandwich with autumn leaves
Grilled Shrimp Miso sandwiching vinegar Lotus root
【Oils】
· Prawn fried tofu deep-fried tofu
Eggplant and cheese pinch fried
Green fish Diet sauce
[Vinegar]
· Skin peeling steaming
Blue Raven Red Yellow Paprika
Pickled vegetable oil
【Armor bowl】
· Red red bean curd Shiitake mushroom
【Food】
· Chestnut rice
[Pickles]
· Two kinds of flour
【dessert】
· Papaya Water Yolkka Yellow Cream
Melanna pomegranate mint
Some contents may differ due to purchase convenience ※.
Coupons that can be used with this course
2018/10/02 update