DETAIL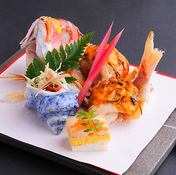 Premium limited ☆ 【Pine Traffic】 13 items 12000 yen with one drink
12000 yen
The food content is monthly change.Zeisakomi
Please taste the colorful gem in a sensation that can be enjoyed a bit.Cooking content can be enjoyed on a monthly basis.It is a full-fledged kaiseki cuisine popular for entertaining and anniversaries.Elegant seasoning is also popular among people of a wide range of age.Come with luxurious feeling together with the superb view you want from 142 m above the ground! Complete private room available for 5 people.
Menu
【aperitif】
· Kaobu sake
[With earlier]
· Scallop with scallops and sweet shrimp
Andieve asparagus lettuce
Selfeil orange sauce
【Eight Dimensions】
· Sea Rice Nishikyo Pickled Kawadori Potato Grill
· Shiitake mushroom sea bone grilling floor section Netsaki
· 鮟 steamed liver salt chili vinegar
· Salmon yellow fried fried
· Zero cube marble gift
【Souvenirs】
· Crab crab rice cracker
Yellow tofu gray hair onion Suizenji plum meat
【Building】
· Hirameokuwaku white marine shell
Windproof fog bone blue shiso mountain Ao
【Simmered food】
· Lotus Root Tofu Eel
Dandruff bean pastilles bean ginger
【pottery】
· Sweet sea bob grilled octopus grilled
Red clamshell grilled unbaked green onion cloth
Golden-vinegar Lotus root
【Oils】
· Fried shrimp potatoes
Shiitake mushroom Toshihisa fried mini aspara
Autumn leaves wholesale juice
[Vinegar]
· Cod kneading cloth drizzle
Baked shiitake mushrooms cucumber red paprika
Chrysanthemum scattered ponzu
【Armor bowl】
· Red, young cloth, spinach potato
【Food】
· Crab rice
[Pickles]
Two kinds of flour
【dessert】
· Sweet Mummy
Melane Yellow Cream Stone Mint
Some contents may differ due to purchase convenience ※.