DETAIL
Premium limited ☆ 【Pine Traffic】 13 items 12000 yen with one drink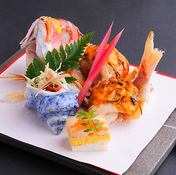 12000 yen
The food content is monthly change.Zeisakomi
Reservation deadline

Coming to the store until the day 15 of the desired date
Please taste the colorful gem in a sensation that can be enjoyed a bit.Cooking content can be enjoyed on a monthly basis.It is a full-fledged kaiseki cuisine popular for entertaining and anniversaries.Elegant seasoning is also popular among people of a wide range of age.Come with luxurious feeling together with the superb view you want from 142 m above the ground! Complete private room available for 5 people.
Course menu
【aperitif】
· Kaobu sake
[With earlier]
· Scallop and bamboo shoots
Sea shochu sauce hang
Aoi Hayama Needle seaweed
【Eight Dimensions】
· Pickled salted mackerel with miso sauce
· Asao Tofu Tadakura Beef tender flavor fried
· Sea bream child bud Miso grilled
· Rice beans checker cheese salmon roll
· Hanami dumpling
【Souvenirs】
· Confucius dictionary
Lotus cherry tree carrot wakame tree bud
【Building】
· Sweet (or flat) bonito
Hotoshi Su Blue Shiso Blue Nori Ayama
【Simmered food】
Steamed bamboo shoots
Tea Hail
【pottery】
· Sweet snake sakura prawn shrimp
Green bamboo ice fish vinegar
Vinegar Lotus root
【Oils】
· Fried prawn bamboo shoots
鰆 Tombstone fried tomorrow leaves
Uruui Yuntan fried soup stock
[Vinegar]
· White shell and red shellfish yellow vinegar
Cucumber Radish Windproof
【Armor bowl】
· Red itashi sera
【Food】
· Tin rice
[Pickles]
Two kinds of flour
【dessert】
· Coconut flavor Mu
Melon
Mango sauce Mint
Some contents may differ due to purchase convenience ※.
2018/04/02 update