Course details
Premium limited ☆ 【Pine Traffic】 13 items 12000 yen with one drink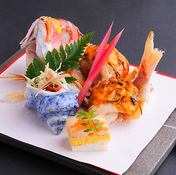 By using a coupon12000 yen
The food content is monthly change.Tax included
Reservation deadline

Until 15 o'clock on the desired date of visit
Available days for reservation

Monday - Sunday - Public holidays - Holidays
Please taste the colorful gem in a sensation that can be enjoyed a bit.Cooking content can be enjoyed on a monthly basis.It is a full-fledged kaiseki cuisine popular for entertaining and anniversaries.Elegant seasoning is also popular among people of a wide range of age.Come with luxurious feeling together with the superb view you want from 142 m above the ground! Complete private room available for 5 people.
Course menu
【aperitif】
· Kaobu sake
【First come, first served】
· Scallop with scallops and sweet shrimp
Andieve asparagus lettuce
Needle Yuzu Selfeil Orange Sauce
【Eight Dimensions】
· Oyster bacon winding
· Salmon yellow fried fried
· Duck loin cabbage roll
· Zero Removal Marble
· Braised dumplings on the same day Eel sesame seeds with mustard
【Souvenirs】
· Shirako Shinsho
Cod kneading strip ginseng tree bud
【Building】
· Hirame eye rings sea shell
Hot Shiso Blue Shiso Sanxi
【Simmered dish】
· Snail fish
Bamboo chrysanthemum needle yuzu
【pottery】
· Ceramic sake burglar
Scallop shrimp octopus scallop
White fungus mushrooms Mushrooms Sake Vinegar
【Oils】
· First frost fried snapper
Large slime mushroom mushroom Blue Tang
Kuzumi noodles soup stock
【Vinegared】
· Needle fish with masa
Pomegranate lotus root pickled wind protection
【Armor bowl】
· Red itashi Yuba Naniko Seri
【Food】
· Crab rice
【Incense】
· Two kinds of flour
【dessert】
· An apple millet
Strawberry pomegranate mint
Some contents may differ due to purchase convenience ※.
Coupons that can be used with this course
2018/12/01 update