DETAIL
Premium limited ☆ 【Pine Traffic】 13 items 12000 yen with one drink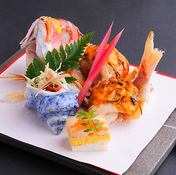 12000 yen
The food content is monthly change.Zeisakomi
Reservation deadline

Coming to the store until the day 15 of the desired date
Please taste the colorful gem in a sensation that can be enjoyed a bit.Cooking content can be enjoyed on a monthly basis.It is a full-fledged kaiseki cuisine popular for entertaining and anniversaries.Elegant seasoning is also popular among people of a wide range of age.Come with luxurious feeling together with the superb view you want from 142 m above the ground! Complete private room available for 5 people.
Course menu
【aperitif】
·plum wine
[With earlier]
· Cast in a mold
Bacon Mushroom Crab
Selfeil white sauce
【Eight Dimensions】
· Octopus bacon wrapped princess pumpkin
· Taiko Fish Flower Paste with Sugar Salad Soup
· 鱚 caviar with three leaves
· New cattle red soil true length
· Sashimi Sushi gabion winding
【Souvenirs】
· New lotus root sink
Rice cake lotus root vegetable ginseng ginseng tree bud
【Building】
· Sweet and sour bonito
Hot Shiso Blue Shiso Sea Grape Mountain Ao
【Simmered food】
· Paper pan pot lettuce pot
Mochi Pork Enoki Shiitake White Onion Yuzu Pepper
【pottery】
· Ayu nocturnalcoast
Okinaga Yaki Ome Bonnium Honey
Shioka leaf vinegar lotus root
【Oils】
· Sesame tofu lift
Prawn shrimp young corn sweet pepper
Sashimi Onion
[Vinegar]
· Toriyama San Ao Yoshino vinegar
Pimpled wind-blowing radish
【Armor bowl】
· Red, shiro and shiitake mushroom
【Food】
· New ginger rice
[Pickles]
Two kinds of flour
【dessert】
· Momo Momo
Lychee peach sauce Fermented mint
Some contents may differ due to purchase convenience ※.
2018/06/01 update