Course details
Premium limited ☆ 【Pine Traffic】 13 items 12000 yen with one drink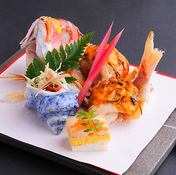 12000 yen
The food content is monthly change.Zeisakomi
Reservation deadline

Coming to the store until the day 15 of the desired date
Available days for reservation

Monday - Sunday - Public holidays - Holidays
Please taste the colorful gem in a sensation that can be enjoyed a bit.Cooking content can be enjoyed on a monthly basis.It is a full-fledged kaiseki cuisine popular for entertaining and anniversaries.Elegant seasoning is also popular among people of a wide range of age.Come with luxurious feeling together with the superb view you want from 142 m above the ground! Complete private room available for 5 people.
Course menu
【aperitif】
·plum wine
[With earlier]
· Uji Tofu
Raw ocean caviar octopus potato
Pick up Yuba delicious soup stock
【Eight Dimensions】
· Asparagus with konbu 梅 仙 梅 肉 肉 vinegar
· Duck loose ice cream sauce needle celery parsley
· Baked octopus octopus
· Shiitake mushrooms steamed fried shrimp gabion
· Edamame Matsukaze 鱧 Sanbanchi
【Souvenirs】
· Golden wrapped paprika Narcissus
Ranpo ware kelp tree bud
【Building】
· Meguro (Akou) Yokohama Tadashi fish
Windblowing blue shiso huge Oshima
【Simmered food】
· Eel of Toji-no-Taki
Rolled yuba Japanese red orange silk candy mustard
【pottery】
· Makoto bonito blue okonomiyaki
Ikura Mixed Butterfly Butterflies
Bell peppers Mix taste Vinegar taking Lotus root
【Oils】
· Confucius Jade Deep-fried
Deep-fried prairies
Hill Hijikata Hakata Too Mushroom Soup
[Vinegar]
· Lobster 's mountain vinegar
Authentic cucumber Radish handsuke
【Armor bowl】
· Red and finely chopped potato yamenko three leaves
【Food】
· Scallop rice
[Pickles]
Two kinds of flour
【dessert】
· White peach milk jelly
Giant peak grapefruit 羹 mint
Some contents may differ due to purchase convenience ※.
2018/08/01 update