DETAIL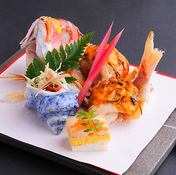 Premium limited ☆ 【Pine Traffic】 13 items 12000 yen with one drink
The food content is monthly change.Zeisakomi
Please taste the colorful gem in a sensation that can be enjoyed a bit.Cooking content can be enjoyed on a monthly basis.It is a full-fledged kaiseki cuisine popular for entertaining and anniversaries.Elegant seasoning is also popular among people of a wide range of age.Come with luxurious feeling together with the superb view you want from 142 m above the ground! Complete private room available for 5 people.
Menu
【aperitif】
· Kaobu sake
[With earlier]
· Beans with rapeseed and rapeseed
Taiyouji Toshihisa sesame seed flower
【Eight Dimensions】
· Simmered boiled sardine of eiyu boiled red plum
· Sipe dumplings fried in yellow
· Fireworks Tree Bud Miso Multipurpose
· Aoi Hayama and soaked dumplings
· Salmon Yoro Vol. Yellow Baked
· Uruui kelp pushed Ikura lemon
【Souvenirs】
· White shrimp freshwater fish
Yuzu plum ginseng
【Building】
· Hirame eye rings sea shell
Hot Shiso Blue Shiso Blue Nori Oshima
【Simmered food】
· Goose liver tofu duck dumpling
Bamboo Beans
【pottery】
· Sea bream and bamboo shoots
Fish octopus with cheese Needle mountain Ao
Young beef whitewash vinegar lotus root
【Oils】
· Eel and silkworm white beans fried
Kaiten Yuba curd with white decoction
Sprout bud tomorrow leaf green tea salt
[Vinegar]
· Cup of Confucius soy sauce
Ratted potatoes with fruit tomatoes
Wind protection
【Armor bowl】
· Red itashi sera
【Food】
· Yuba rice
[Pickles]
Two kinds of flour
【dessert】
·Grapefruit Jelly
Melled strawberry mint
Some contents may differ due to purchase convenience ※.